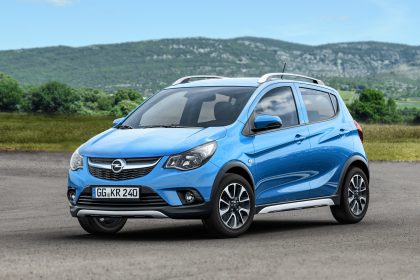 With just a little over two weeks left until the 2016 Paris Auto Show opens its gates, Opel has just released the first images of one of its premieres, the Karl Rocks.

An 18-mm (0.7 in) increased ride height, rugged bumpers on both ends with integrated skid pads, front and rear wheelhouse moldings, functional silver roof rails and unique 15-inch wheels with a bi-color look set it apart from the standard entry-level model.
Its off-road character is continued inside, where the Germans are offering 'Favo' fabric upholstery for the seats, which is available exclusively on the Karl Rocks. This is joined by the front sill plates, high-gloss frame for the standard Radio R 300 or optional Radio R 4.0 IntelliLink, which adds Android Auto and Apple CarPlay compatibility, and Opel OnStar personal connectivity and service assistant.
The usual safety and comfort features, available on the regular Karl, are also making their way onto the Rocks variant and these include the City Mode, which reduces steering effort at the touch of a button, Park Assist, and cruise control with speed limiter. The new Opel Karl Rocks maintains its practical five-seat layout and comes with a total boot capacity of up to 1,013 liters.
Opel is keeping powertrain, availability and pricing details a secret for now, but these should be announced at the end of the month, during the French automotive event. Moreover, Vauxhall is now expected to lift the veils off a similar version of the Viva too, aimed at the UK market
Source:  – Carscoops

URL: – http://www.carscoops.com/2016/09/opel-karl-toughens-up-with-new-rocks.html