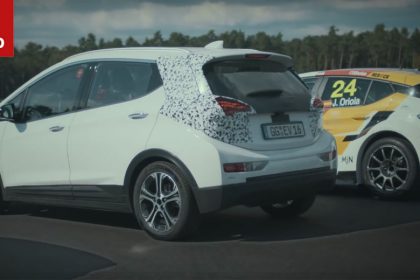 he Ampera-e, Europe's version of the Chevrolet Bolt, may not seem like a performance car, but according to Opel at least, it is capable of some rather impressive feats.

To show off the car's sprint capabilities, the General Motors-owned brand pitted the new Ampera-e against the TCR racing variant of the Astra, a race-spec Opel Adam and standard versions of both the Insignia and Corsa.
Over a quarter mile, the Ampera-e would stand no chance against its more traditionally-powered siblings. As a result, Opel tipped things in its favour by running the drag race over just 30 meters (100 feet) and predictably, the small electric hatch won convincingly.

While we doubt many people will buy the car because it is "Fun to drive", Opel is clearly taking a leaf out of Tesla's book by showing the performance benefits of electric powertrains. While they may have no soul and emit no noise, they're incredibly quick.
When deliveries of the Ampera-e kick off in Europe next year, customers will receive an electric motor and battery pack capable of delivering 200 hp and able to achieve a range of about 200 miles.
Source:  – Carscoops

URL: – http://www.carscoops.com/2016/09/opel-shows-its-electric-ampera-e.html