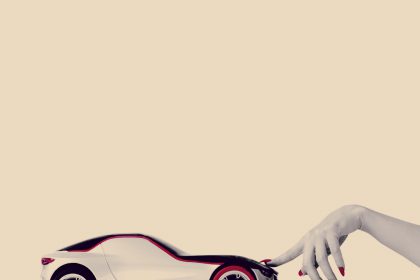 The Opel GT Concept was the much-coveted star of this year's Geneva Motor Show. The descendant of the legendary Opel Experimental GT impressed the assembled media along with visitors from across Europe and was voted "Car of the Show" by Car Design News. The sportscar is avant-garde yet puristic, renounces everything that disturbs from the pure form.
One of the statement features of Opel's GT Concept are the distinctive red accents – this is something it has in common with the creations of Ekaterina Mishchenkova, better known as katia_mi, art director and member of "The Russian Union of Art Photographers." The color red features in images that impress her large social media following, but the connection between katia_mi and her latest muse was even more intense.
Invited to experience the Opel GT Concept, katia_mi was stimulated by both the execution and the sculptural design philosophy behind the avant-garde sportscar. She expressed the impressions left by Opel's concept car in her own creations. They show the car and the understanding of how the modern art object encloses unimagined, visionary functionality. "It's so amazing when you find out that so many innovative design and technical solutions can be showcased in a single car like the Opel GT Concept," wrote katia_mi on her Instagram profile. "The doors have electrical drive, the windshield is a continuation of the panoramic roof, rear view cameras take over from traditional mirrors, and, of course, the front tires that are painted in my favorite color, red! The Opel GT Concept is daring, with its own uncompromising character!"
The results of katia_mi's meeting with Opel GT Concept can be seen on her social media channels, especially on Instagram, where she has a following of more than half a million.