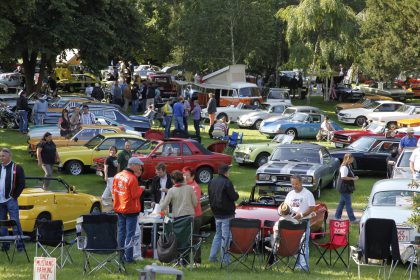 The classic car event at the Opel Villas in Rüsselsheim has itself become a classic event. The 16th edition of the classic car event will take place from 9.00 to 16.00CET on Sunday, June 26. The roughly 3,000 participants that are expected can once again present their vehicles built before 1986 on the banks of the river Main in front of the Opel Villas in the very heart of Rüsselsheim. Cars, tractors, motorcycles and bicycles of all brands will be on show.
The Blitz station wagon parade presented by Opel Group CEO Dr. Karl-Thomas Neumann and Rüsselsheim's Lord Mayor Patrick Burghardt will be one of the many highlights of the day. A Rekord D Caravan, a Kadett D Caravan belonging to road rescue service ADAC and a fire service Rekord E Caravan driven by touring car legend Joachim Winkelhock will all participate. In addition, Opel Classic will present station wagons from the models Kadett A, Kadett C, P2 delivery van, a "rapid delivery van", a Commodore C ambulance and obviously a new Astra Sports Tourer. The "Car of the Year 2016" will help build a bridge between past and present.
Classic car expert Detlef Krehl who will present the Opel classic vehicles as of 10:00CET will host the classic car event. He will later interview Dr. Karl-Thomas Neumann and Patrick Burkhardt. However, the event is much more than a highlight for classic car fans. The classic car event offers something for the entire family with it extensive supporting program: Bands Big Feet Boys, Hispanos, das Absinto Orkestra "de Swingers", Skotty and The Wonderfrolleins will entertain the spectators with their music. Opel will offer free parking on Mainzer Straße and in front of the Adam Opel Haus with a shuttle providing free transport to the Opel Villas. In addition, there is no participation or entrance fee.